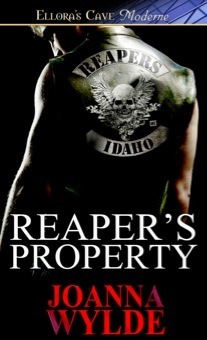 Title: Reaper's Property
Author: Joanna Wylde
Pages: 247
Synopsis: Marie doesn't need a complication like Horse. The massive, tattooed, badass biker who shows up at her brother's house one afternoon doesn't agree. He wants Marie on his bike and in his bed. Now.
But Marie just left her abusive jerk of an ex-husband and she's not looking for a new man. Especially one like Horse—she doesn't know his real name or where he lives, she's ninety percent certain he's a criminal and that the "business" he talks with her brother isn't website design. She needs him out of her life, which would be a snap if he'd just stop giving her mind-blowing orgasms.
Horse is part of the Reapers Motorcycle Club, and when he wants something, he takes it. What he wants is Marie, but she's not interested in becoming "property of".
Then her brother steals from the club. Marie can save him by giving Horse what he wants—at home, in public, on his bike… If she's a very, very good girl, she'll get lots more of those orgasms only he can offer, and he'll let her brother live.
Maybe.
Review: This book was just one big roller coaster for me. However, I thought it was absolutely addicting. I gave this book a 4/5 stars because I didn't like that they used the word "babe" so much. I know that is such a little thing to take a star down for but I felt like there were times in the book that "babe," was mentioned literally every other word. The novel itself was like I said addicting. I couldn't help myself from wanting to know what will happen between Horse's and Marie's relationship. It was at times confusing to me because I felt like they might have had some sort of relationship in the past which threw me off a little because I was trying to distinguish the past from the present. Overall, I loved this book, I enjoyed the fact that the main characters had so much chemistry between each other. I also enjoyed that Marie was always taking care of her brother and the bikers that came to visit him. That little detail just made the story so much more relatable.
It was very interesting to me to read about the motorcycle clubs, because this was something that I have never been exposed too. I was very fascinated by the loyalty this book portrayed between the members of the club. The club that our main character Horse belonged to was called "The Reapers". The Reaper's I honestly had a hard time imagining that they were this tough group of men. I saw them all like "Snow White and the 7 Dwarfs", but in leather. I felt that they were all soft loving guys under all that leather. I couldn't help feel compassion and fascination reading about them because it showed such a different way of life.
I also really liked the relationship between our main characters, it gave me all the feels. I liked that even though they knew that all odds were against them they fought tooth and nail to make it work. That put them defiantly high on my list of favorite couples. Also, I enjoyed that there was so much doubt if it will work out between them because they were from such different ways of life, But, they were able to conquer the odds and come out stronger than ever.
Overall, if you want a fun, quick,book filled with leading men in leather, tough females and a story with little more than a hint of love I highly recommend you to check this book out. I promise you won't be disappointed.
xoxo,
Rina